>5X Faster in Conversion with NVIDIA® CUDA ™ & AMD APP
Introducing NVIDIA® CUDA & AMD APP technology, mediAvatar video converters and DVD rippers will accelerate the video encoding/decoding (especially high-definition video) by 5X on any PC with CUDA/AMD APP-enabled GPU built-in. By shifting the DVD/video conversions to NVIDIA's GPU, more CPU resources can be spared for other applications, making your computer run much smoother.
We have labeled all the conversion profiles that leverage CUDA & AMD APP technology, and offer you the option to enable GPU encoding/decoding acceleration once detecting CUDA/AMD APP-enabled graphics card on your computer.
Here we would like to show you the improvement in performance when converting with and without CUDA using a diagram below.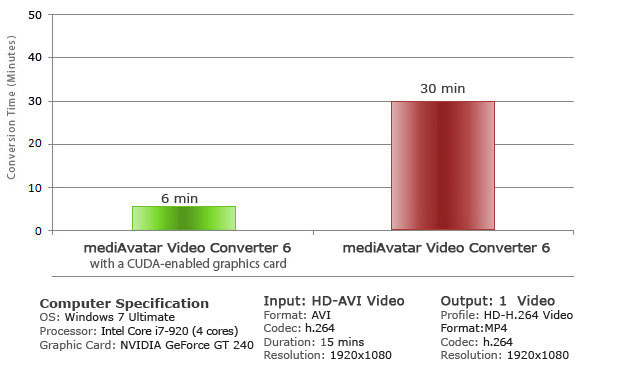 Supported Formats
Input Video Formats: AVI, MPEG, WMV, MP4, FLV, MKV, H.264/MPEG-4, DivX, XviD, MOV, M4V, VOB, ASF, 3GP, 3G2, SWF, H.261, H.264, DV, DIF, MJPG, MJPEG, DVR-MS, NUT, QT, YUV, DAT, MPV, NSV AVCHD Video (*.mts, *.m2ts), H.264/MPEG-4 AVC (*.mp4), MPEG2 HD Video (*.mpg; *.mpeg), MPEG-4 TS HD Video (*.ts), MPEG-2 TS HD Video (*.ts), Quick Time HD Video (*.mov), WMV HD Video (*.xwmv), Audio-Video Interleaved HD Video (*.avi)
Output Video Formats: all video formats with H.264 codec
Supported Graphics Card:
NVIDIA
Séries GeForce 400
GeForce GTX 480/GTX 470/GTX 465/GTX 460
GeForce GTX 480M
Séries GeForce 300
GeForce GT 340/GT 330/GT 320/315/310
GeForce GTS 360M/GTS 350M/GT 335M/GT 330M/GT 325M/310M/305M
Séries GeForce 200
GeForce GTX 295/GTX 285/GTX 285 for Mac/GTX 280/GTX 275/GTX 260/GTS 250/GT 240/GT 220/210
GeForce GTX 285M/GTX 280M/GTX 260M/GTS 260M/GTS 250M/GT 240M/GT 230M
Séries GeForce 100
GeForce GTS 150/GT 130/GT 120/G100
GeForce GTS 160M/GTS 150M/GT 130M/G210M/G110M/G105M/G102M
Séries GeForce 9
GeForce 9800 GX2/9800 GTX+/9800 GTX/9800 GT/9600 GSO/9600 GT/9500 GT/9400GT
GeForce 9800M GTX/9800M GT/9800M GTS/9800M GS/9700M GTS/9700M GT/9650M GS/9600M GT/9600M GS/9500M GS/9500M G/9400M G/9300M GS/9300M G/9200M GS/9100M G
GeForce 9400/9300 mGPU
Séries GeForce 8
GeForce 8800 Ultra/8800 GTX/8800 GTS/8800 GT/8800 GS/8600 GTS/8600 GT/8500 GT/8400 GS
GeForce 8800M GTS/8700M GT/8600M GT/8600M GS/8400M GT/8400M GS
GeForce 8300/8200/8100 mGPU
Séries Quadro Desktop
Quadro FX 5800/FX 5600/FX 4800/FX 4800 for Mac/FX 4700 X2/FX 4600/FX 3800/FX 3700/FX 1800/FX 1700/FX 580/FX 570/FX 470/FX 380/FX 370
Quadro CX/6000/5000/4000/NVS 450/NVS 420/NVS 295/NVS 290/Plex 7000/Plex 2100 D4/Plex 2200 D2/Plex 2100 S4/Plex 1000 Model IV
Séries Quadro Mobile
Quadro FX 3800M/FX 3700M/FX 3600M/FX 2800M/FX 2700M/FX 1800M/FX 1700M/FX 1600M/FX 880M/FX 770M/FX 570M/FX 380M/FX 370M/FX 360M
Quadro 5000M/NVS 5100M/NVS 3100M/NVS 2100M/NVS 320M/NVS 160M/NVS 150M/NVS 140M/NVS 135M/NVS 130M
AMD
Séries Radeon™ HD 4000
Radeon™ HD 4650/4670/4770
Radeon™ HD 4830/4850/4870/4890
Mobility Radeon™ HD 4830/4850/4860/4870
Mobility Radeon™ HD 4300/4500/4600
Séries Radeon™ HD 5000
Radeon™ HD 5450/5550/5570
Radeon™ HD 5670/5750/5770
Radeon™ HD 5830/5850/5870/5970
Mobility Radeon™ HD 5145/5165
Mobility Radeon™ HD 5430/5450/5470/5650
Mobility Radeon™ HD 5730/5750/5770
Mobility Radeon™ HD 5830/5850/5870

Séries Mobility Radeon™ HD 500v
Mobility Radeon™ HD 530v/540v/550v/560v