How to convert videos to DPG for Nintendo DS
- A guide about mediAvatar DPG Converter
Especially made for Nintendo DS fans, mediAvatar DPG converter can fulfill all your needs to convert most popular videos to DPG format that is compatible with Nintendo DS Moonshell. And this DPG converter supports converting AVI, MPEG, H.264/AVC, 3GP, VOB, DAT, WMV, MP4, DivX, MOV, RM, ASF, MKV, MOV, M4V,FLV, RMVB and more videos to DPG, DPG2, DPG3, DPG4, as well as extracting MP3, MP2 audios from videos in those formats for playing via Moonshell.
At first, download, install and launch mediAvatar DPG Converter. You will see the software interface like picture below.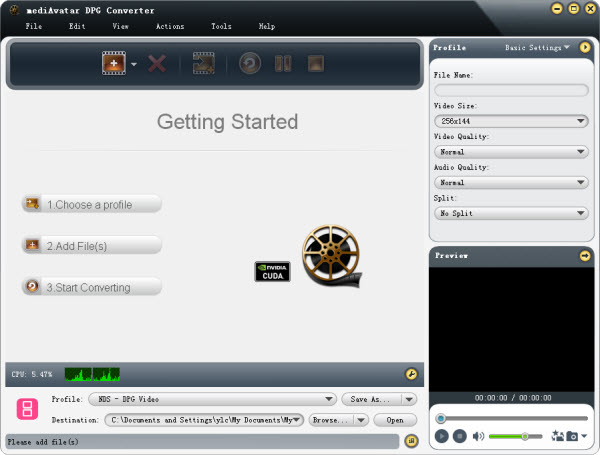 Let's start the step by step guide of converting videos to DPG:
1. Load the files you want to convert to DPG
Click the "Add File(s)" button to add the files on your computer that you want to convert to this DPG converter. Generally this DPG converter supports the most popular video files, you can also have a check on the DPG video converter product page to have a check.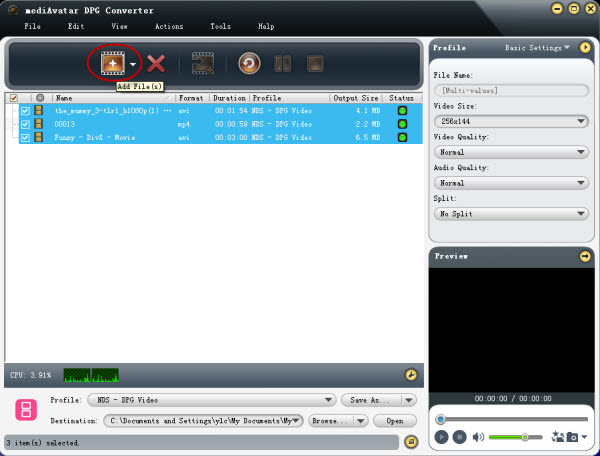 2. Choose the output format
This Nintendo dpg converter supports converting other video formats to DPG, DPG2, DPG3, DPG4, MP2, and MP3 formats. Choose the output profile from the list.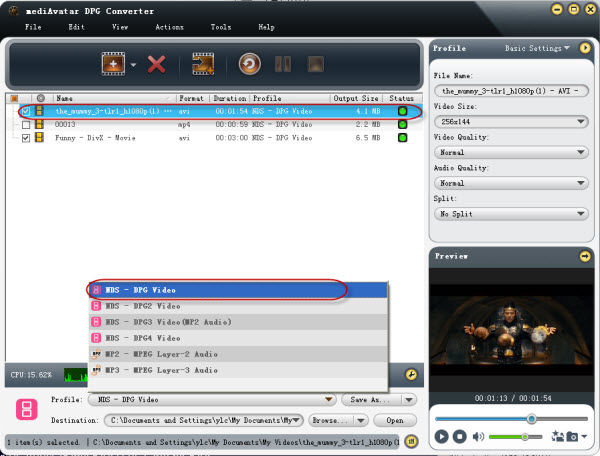 Also if you would like to convert one file to more than one format at the same time, click the "Add profile" button on the tool bar, and choose one more format for this file.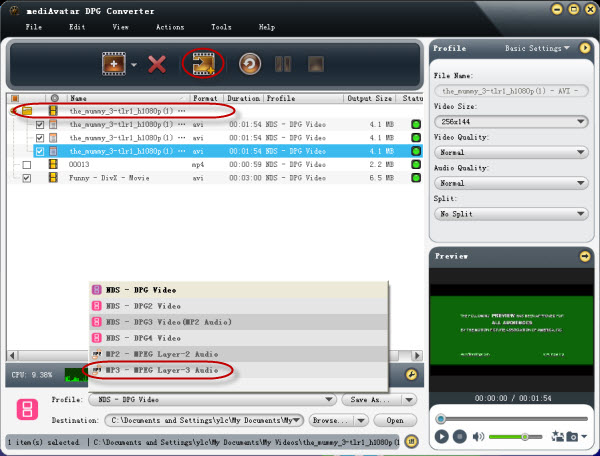 Moreover, for advanced users, this Nintendo DPG converter allows users to edit and change the parameters of audio/video codec for the output files in the basic and advanced settings panels.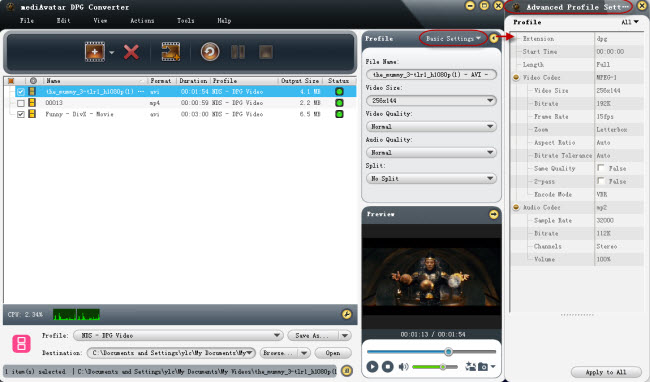 3. Start the DPG converting
After all settings above, click the "convert files" button on tool bar to start the videos to DPG conversion. When the conversion finished, just click "open" button to visit the target file. Everything is simple.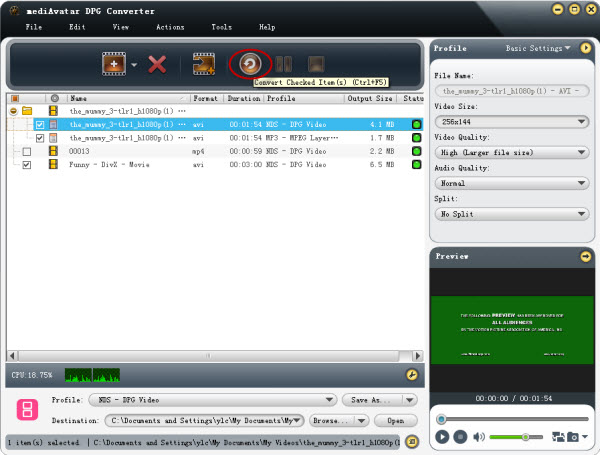 About Nintendo Moonshell player - MoonShell is a homebrew multimedia player for the Nintendo DS, Nintendo DS lite, 3ds and Nintendo DSi dual-screen handheld videogame systems. It is a well known, popular piece of Nintendo DS homebrew software, and offers a way to play videos and audio on the DS, along with other homebrew games. And the current versions support DPG video files, MP3 / OGG / MOD / SPC / MDX (no PCM) / GBS / HES / NSF / XM / MIDI / WMA / low bit rate AAC audio / non-progressive JPEG / BMP / GIF / PNG images, text files, and ebooks. Besides DPG videos for moohshell, mediAvatar DPG converter also supporting MP3, MP2 audio outputs, and BMP/GIF/JPEG/PNG image outputs. Go DPG Converter to explore more features.