How to rip and convert DVD movies to iPhone videos?
- You may need: mediAvatar DVD Converter or mediAvatar DVD to iPhone Converter
How wonderful if we can put our favorite DVD movies on our iPhone and watch them on the go! Here comes the problem: how to rip and convert DVDs to iPhone movies? In this article, I'll help you find your conversion solution of DVD to iPhone with this mediAvatar DVD Converter for iPhone.
Besides ripping DVD to iPhone videos, this DVD to iPhone converter can also clip, merge, split videos, add transitional effects, adjust video image effects and make many other adjustments to make sure you convert DVD to custom iPhone movies you want.
Below I'll show you how to rip DVDs to iPhone videos in 3 simple steps.
After you download, install and start this mediAvatar DVD Converter for iPhone, you will see that the DVD to iPhone converter's main window looks like this: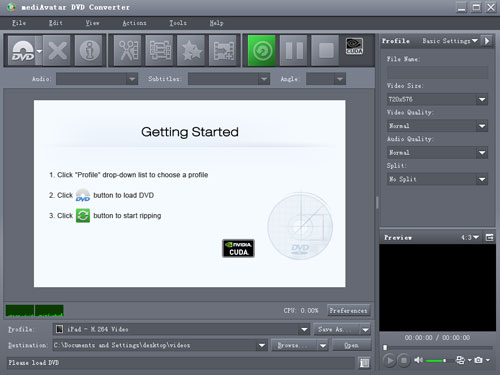 Step 1: Load DVD movie into this DVD converter for iPhone
Insert DVD movie disc to this DVD to iPhone converter, then click on "Add File(s)" button on the toolbar or "File > Open DVD" menu option to load the DVD disc you insert.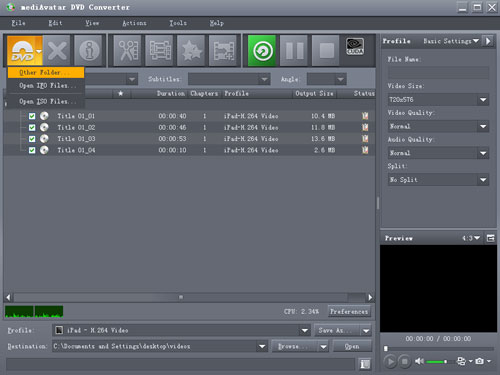 Step 2: Choose iPhone video format as output
mediAvatar DVD Converter for iPhone sorts the conversion profiles by common use, devices and user-defined. To choose the output format you want, check one or multiple DVD titles, click to open "Profile" drop-down list below the file list to choose the "iPhone H.264 Video" as output format from "Apple iPhone" category. And click "Browse" button to choose the output folder for saving the converted iPhone video files.
To explore more customization features about this DVD to iPhone video converter, let's go on.
If you want to clip DVD movie to convert to iPhone, choose the DVD title you want to clip from the file list, and enter "Clip" window to extract any video clip you want.
If you want to merge several titles or clips into one, then click "Merge" button on the toolbar to merge these DVD items into a single file for converting to iPhone videos.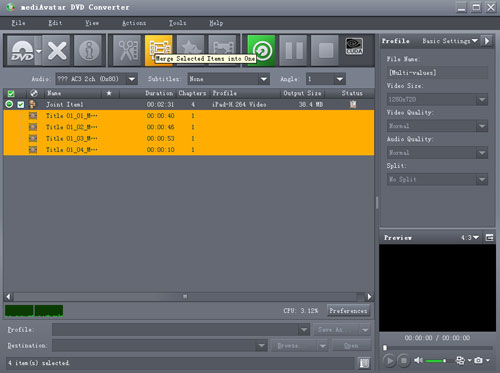 Step 3: Rip DVD movie to iPhone
After the above settings, click "Rip Checked Item(s)" button on the toolbar to start converting DVD to iPhone!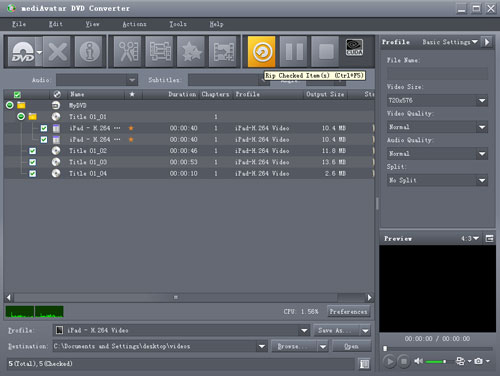 It has never been easier to rip DVD movies to iPhone videos with this mediAvatar DVD Converter for iPhone!
However, this DVD converter do more with your DVD movies before you convert DVD to iPhone! Want to have a trial now? Go to mediAvatar DVD Converter for a free trial version to find more.
Related Products: mediAvatar DVD Converter, mediAvatar DVD to iPhone Converter
Knowledge:
What is DVD-Video?
DVD-Video is a consumer video format used to store digital video on DVD discs, and is currently the dominant consumer video format in Asia, North America, Europe, and Australia. Discs using the DVD-Video specification require a DVD drive and a MPEG-2 decoder (e.g., a DVD player, or a DVD computer drive with a software DVD player). Commercial DVD movies are encoded using a combination of MPEG-2 compressed video and audio of varying formats (often multi-channel formats as described below). Typically, data rate for DVD movies range from 3 Mbit/s to 9.5 Mbit/s, and the bit rate is usually adaptive. It was first available for Retail in around 1997.
iPhone
The iPhone is a line of Internet and multimedia-enabled smartphones designed and marketed by Apple Inc. The first iPhone was introduced on January 9, 2007.
An iPhone functions as a video camera, camera phone with text messaging and visual voicemail, a portable media player, and an Internet client with e-mail, web browsing, and both Wi-Fi and 3G connectivity. The user interface is built around the device's multi-touch screen, including a virtual keyboard rather than a physical one. Third-party as well as Apple applications are available from the App Store, which launched in mid-2008 and now has well over 300,000 "apps" approved by Apple. These apps have diverse functionalities, including games, reference, GPS navigation, social networking, security and advertising for television shows, films, and celebrities.
There are four generations of iPhone models, and they were accompanied by four major releases of iOS (formerly iPhone OS). The original iPhone was a GSM phone which established design precedents like screen size and button placement that have persisted through all models. The iPhone 3G added 3G cellular network capabilities and A-GPS location. The iPhone 3GS added a compass, faster processor, and higher resolution camera, including video. The iPhone 4 has two cameras for FaceTime video calling and a higher-resolution display. It was released on June 24, 2010. On January 11, 2011, Apple and Verizon together launched a CDMA2000 compatible iPhone 4 specifically for the Verizon network in the US, released on February 10, 2011.
--- From WIKIPEDIA